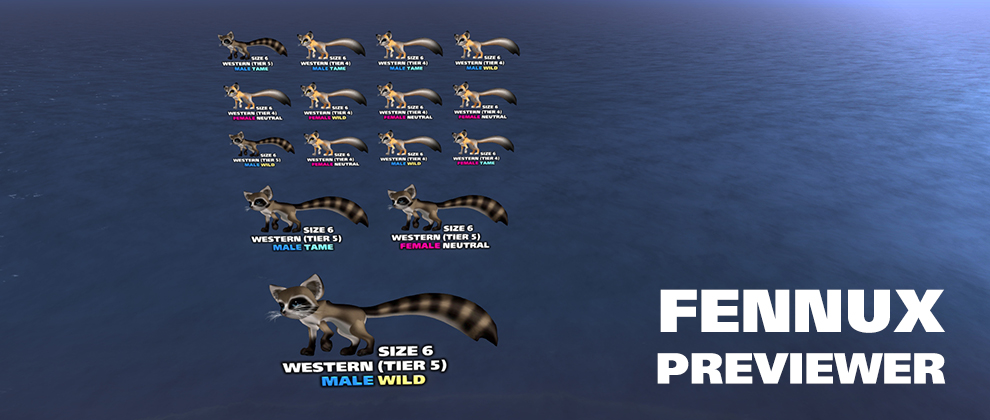 Hey everyone,
So over the past month – Katharine, Dash and Daemon have been working on a special project to present to the Fennux Community. It took a bit longer than expected but we're proud to show off the COMPLETELY FREE, Fennux Previewer!
This is a 1-Prim (1 Land Impact), Mesh Sign, that will display ANY Fennux or Den's 2D Image. Think of it like the Fennux.com/ID pages we have, where you can preview what a den looks like.
Not only that – we also have built in a genetic history tree into the sign. After a fennux is loaded on the sign, you can touch the sign to see it's parents, grandparents and great grandparents.
As I said before, it's a completely free sign system! It will display the Region, Tier, Gender, Size and Aggression via text – all of the other attributes are able to be seen on the actual 2D Fennux itself. If you don't know what something is – you can always look at the website, but seasoned breeders know the difference between lime / gold eyes, or bandit / foxy.

The Fennux Previewer is available at the Official Fennux Sim, right by our landing point. We also keep it in the vendors area of our sim as well. It costs L$1 but it will refund you L$1 right away. Get it here!
Please read the notecard inside to fully understand how to use the sign, and definitely check out the tutorial video here: Previewer Tutorial Video
If you have any questions about the sign, you can try asking the chat, or submitting a ticket. Keep in mind though, this is a completely free offering – we will NOT be adding the titles for every little trait, coat name, etc – we did it this way because it's easy for us to release completely for free.

Thanks for reading,
-Team Fennux