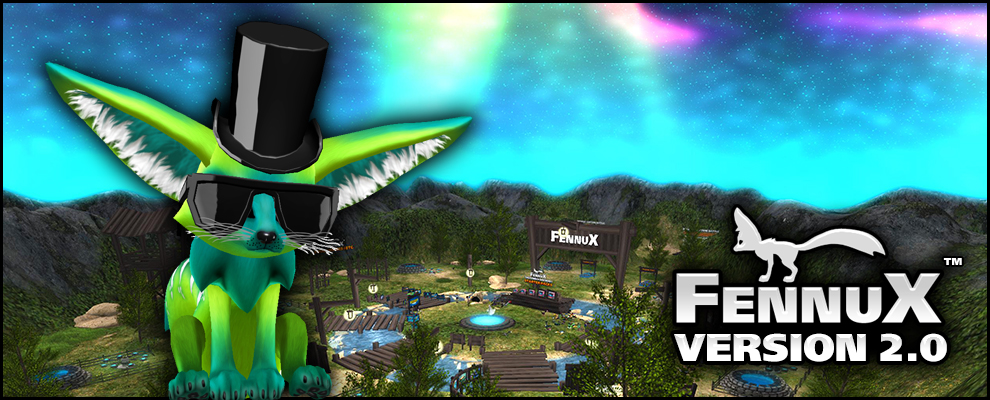 Team Fennux has some exciting news for our breeders: Fennux Version 2.0 is here!
—
FENNUX UPDATER VIDEO TUTORIAL:
http://www.fennux.com/tutorials/updater
(If it's difficult trying to understand Daemon speaking, please see our Fennux V2 Updater Tutorial NO MUSIC version.)
—
Please check "The Fennux" group notices for the attachment "Fennux V2.0 Pyramid" we just sent out. Just grab the attachment, rez the object on the ground and TOUCH the item to unpack it. It should create a folder for you with the latest Fennux HUD, Fennux Updater, Recipe Mass Merger, and Redelivery Portal.
You will need this new HUD to interact with Fennux so I suggest putting that on right away. The Fennux Updater is "slow but sure", and is able to update ALL Live Fennux/Fennux Dens you own that are on the current sim. If you have Fennux on multiple sims you will need to use the updater on each sim. You can always use the traditional "REBUILD" method on your New Fennux HUD v2.0, but if you want to try out the luxury of our automated Fennux Updater – we strongly advise it!

—
USING THE FENNUX UPDATER
Rez the "Fennux Updater" onto your land. Touch it. Select "YES" from the menu prompt. Wait patiently (it updates 1 Live Fennux/Fennux Den per every 10 seconds, it is designed to be slow and stable, so that nothing goes wrong, and besides you'll only ever have to do this once for this update.) After each Fennux or Den is updated, you will see "V2″ at the end of the top line of its hover text. (Dens now show the version when updated.)
MASS MERGING RECIPES
Rez the "Recipe Mass Merger" onto your land. Touch it. Select "YES" from the menu prompt. Near-instantly you should notice all of your FNX Recipes gone and a bunch of spammy text shall notify you that you have received your FNX Points in exchange for their deletion! BUT PLEASE NOTE THAT THIS WILL ONLY WORK ON RECIPES REZZED BY V2.0 FENNUX OR LATER, IT WILL NOT WORK ON RECIPES REZZED BY V1.2 FENNUX!
Of course you can merge recipes by hand via clicking and holding them for 2 seconds, and selecting Merge on them, and of course you can update Fennux by hand via clicking them and clicking CONFIG on your HUD, followed by a REBUILD. The choice is up to you, we just wanted to make these processes easier on you.
NEW PRODUCTS AT THE VENDORS
We now have a couple new products including the Buildable Fennux Fantasy Hydrated Home. The home is not usable until your Fennux finish building it, but it costs significantly less than a standard Hydrated Home, yet looks quite cool after completed. You simply rez it on the ground near Live Fennux and eventually they will start to find sticks, slowly building the home. It may take a week – it depends on how many Lives you have nearby.
We also have the Eternal Reviver item which you can rez on the ground, enter the ID of the Fennux you want to stop being a pet, or come back from being merged into local chat – and then you will see your Fennux show up in front of you. If your Fennux was a Pet, it will be deleted/cloned/etc after you use this, and it will be back to a normal live Fennux.
—
WHAT HAS CHANGED IN VERSION 2?
Below you will find any and all features added to the Fennux…
Fennux eyes will now look around every so often, to see what's going on in the world around them.
You can set the activity level of a Fennux manually via the CONFIG tab on the Fennux HUD, or you can continue using Fennux Homes to do this process in mass.
Fennux will breathe softly while they sleep.
Fennux will occasionally start playing around with a tiny Fennux Soccer ball (USA) / Football (Everywhere Else). Sometimes you'll get to see many Fennux chasing the same ball.
Particle Animations will randomly happen to Fennux, maybe you'll notice hearts, butterflies, or festive themes surrounding your Fennux every so often.
Fennux will hop to food dishes if they are in range for them to eat from, and of course they will do an eating animation upon arrival.
Fennux that run along-side you used to have issues where they would ball up every so often and look strange, this has since been resolved.
You may now pet a Fennux via the HUD.
Fennux will occasionally sleep with its partner (on purpose, not by accident).
We added a TREE button to the INFO Tab, allowing you to see a Fennux Tree in a single click.
If you click the giant FENNUX logo on the ME Tab you can teleport to The Official Fennux Sim.
We added a "SHOW COMP" (Show Compatible Fennux) button to the INFO Tab, it will show compatible Live Fennux/Fennux Dens around you via particle effect.
A Refresh button was added next to the Reserve Food on the ME Tab.
You can use the Mass Recipe Merger to merge all recipes you own in the region at once.
You can use the CONFIG tab to SHOW/HIDE/ATTACH/DETACH Fennux Hats and Glasses you buy from community members.
We fixed the "charecters" typo, yes – that one… it now says charactars… jk it says characters.
Adjust our Fennux Head Sculpt to make the Fennux Heads look smoother, there used to be a slight line on the cheeks of every Fennux – this has been resolved.
Fixed hydration issues where Fennux would fail hydration after successful mating during a certain occurrence (wasn't bothering most users, just some, and it's resolved now).
A new method was added to Fennux that allow for us and potentially third-party developers to create interactive content without requiring further updates. Fennux will even be able to use Path Finding with this new method. (This also means we can release new games that you can play with your Fennux without us requiring you to update each and every Fennux again.)
Better Pack controls. A creator can leave their pack with an option to appoint someone else as the new owner during the process.
Fennux will become low lag in the event no one is around (forced Activity 0), they will go back to normal as soon as someone shows up again. (Toggle this on or off via the "My Fennux – Settings" website.)
You can buy a Build-able Hydrated Fennux Home (Hydrated Fantasy Home) that your Fennux will construct over time. These are priced cheaper than regular hydrated homes as they are not able to be used right away, the Fennux have to build it first!

You can also buy an "Eternal Revive" to undo any Eternal Merge / Eternal Pet that has been done. This can be used to retrieve either a Live Fennux or a Den that has been merged, but this will not revive a Den or a Live Fennux that was merged during Crafting, Wishing or during a Fennux Capture Battle Duel.
You can enable Full Bright for All Fennux via the "My Fennux – Settings" website, this helps the detail of each Fennux show vibrantly on your screen.
Fennux set to "Web Market" can have their pose changed between one of 12 variants. (Jump, Flop, Pawing, Sleep1, Sleep2, Roll, Digging SitButt, Laydown, Stand, Begging, StandLook)
You can enable or disable Fennux Paw Prints as they hop around on your land via the "My Fennux – Settings" website.
We changed the Eternal Merge button on the HUD to show much more detail about what it does. It now has "Deletes Fennux" written underneath it, as well as a bright red border to help you understand it can be "bad" when you don't want to touch it.
—
PLEASE OPEN UP "The Fennux" GROUP AND GET THE ATTACHMENT WE SENT OUT FOR THE UPDATED HUD, FENNUX UPDATER, MASS RECIPE MERGER AND REDELIVERY PORTAL!
Thanks for reading – and Happy Breeding!
Team Fennux