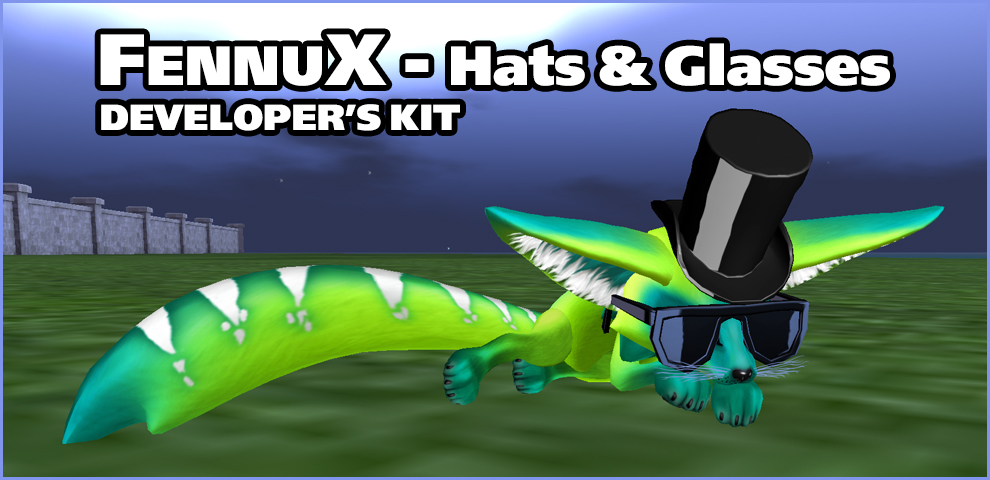 (UPDATED SEPTEMBER 02, 2013)
IF YOU ARE PLANNING ON MAKING A GLASSES ATTACHMENT, YOU MUST COVER THE FENNUX EYES WITH THE ATTACHMENT. THE GLASSES ATTACHMENT SWAPS WITH THE EYE SCULPT, WHICH CAUSES THE EYES OF THE FENNUX TO DISAPPEAR ENTIRELY PUTTING IN PLACE THE GLASSES ATTACHMENT. WE RECOMMEND DEVELOPING SUNGLASSES, VISORS, BLINDFOLDS, ETC – ANYTHING THAT COVERS THE FENNUX EYES FULLY.
HATS REPLACE THE HAIR SCULPT (EVEN IF YOUR FENNUX DOESN'T HAVE HAIR, IT REBUILDS IT WITH A HAIR SCULPT TO REPLACE), SO THERE IS A BIT MORE CREATIVE FREEDOM WHEN DEVELOPING HATS!
TEAM FENNUX WILL DENY ALL GLASSES ITEMS THAT DO NOT COVER THE EYES. (LOOK AT OUR SUNGLASSES EXAMPLE IN THE DEVELOPERS KIT, THESE COVER THEM MOSTLY, BUT NOT FROM THE SIDES, THIS IS A GOOD EXAMPLE OF PROPER EYE COVERAGE)
IF YOU ARE GOING TO DEVELOP WITH THE HAT ATTACHMENT, AND YOU ARE NOT GOING TO COVER THE TOP OF THE HEAD, YOUR CUSTOMERS MAY BE UNHAPPY TO USE YOUR PRODUCT ON A FENNUX WITH A SHORT HAWK, TWIST HAWK, ETC – SO TRY TO INFORM THEM IN YOUR PRODUCT MARKETING THAT YOUR ITEM MAKES USE OF THE HAT ATTACHMENT, AND ADVISE THEM NOT TO USE IT ON FENNUX WITH HAIR TRAITS.
ALSO – PLEASE NOTE THAT WE DO NOT ALLOW RE-TEXTURES OF OUR "TOP HAT" OR "SUNGLASSES" EXAMPLE SCULPTS. WE ONLY ACCEPT SUBMISSIONS FOR SCULPTED CONTENT. (AKA, PLEASE DO NOT RE-TEXTURE THE DEFAULT HAT IN THE KIT AND CLAIM IT AS YOUR OWN BECAUSE YOU RE-TEXTURED IT, SAME GOES FOR THE GLASSES.)
We are announcing a new, completely free product for 3D Content Creators!
If you are good at creating sculpts from scratch in third-party programs, we welcome you to try out the new Fennux Glasses and Hats Developers Program.
To get started developing you will need to obtain our item "Fennux – Hats and Glasses Dev Kit", which is available at the Official Fennux Sim (near the landing point).
Once you have the Dev Kit, please follow these steps:
1.) Rez the object "Fennux – Hats and Glasses Dev Kit" onto the ground.
2.) Click on the object "Fennux – Hats and Glasses Dev Kit".
3.) To create your own Hat, click the button "Rez Hat". To create your own Glasses, click the button "Rez Glasses". (You can do both at the same time if wish.)
4.) You are allowed to edit the hat sculpt and/or the glasses sculpt that rez, in ONLY the following ways…
a) Edit the size with "Stretch both sides" enabled.
b) Swap the sculpt map.
c) Swap the texture map.
YOU CANNOT EDIT ANYTHING ELSE. You literally are only allowed to edit the scale when "stretch both sides" is enabled, and edit the sculpt and texture maps, nothing else is allowed to be edited – else the items will not function properly and will be declined when submitted to us for approval. This includes but is not limited to the Texture Repeats per Face, Texture Offsets, Texture Rotation, etc. – you can't touch any of these values, they have to remain the default.
5.) After you are done creating the sculpts, editing the scaling, etc – you may click on the object and press "Realign Glass" or "Realign Hat" to make sure everything is setup properly, if it looks wrong after you have pressed either Realign button – you probably need to keep editing your sculpt(s) in your sculpting program until they appear perfectly on the Fennux example model.
6.) Once you are positive the Hat and/or Glasses look fine on the default Fennux Model, you may press "Export Hat" or "Export Glass" to get a string of text.
7.) Copy the string of text to your clipboard (Ctrl + C while it's highlighted), and then paste this into a ticket on the Fennux Support Helpdesk (Ctrl + V to paste) under the category "Developers" sub-category "Accessory Submissions". And that's all there is to it!
Expect to hear back from us within a few days. We review each and every submission so it can take a while to process them. Not all submissions will be approved, we are looking for quality as well as making sure no one attempts to use stolen content in their submissions. Please also understand that each item has to be 1 single sculpt per attachment point (Glasses / Hat). 1 sculpt, 1 texture, that's it.
Please understand that this program is designed for 3D Content Creators who know how to export sculpts professionally – you cannot simply purchase some sculpts on the SL Marketplace and expect them to fit on our Fennux model. You WILL have to use a professional sculpting program to export the sculpts in just the right position, rotation, etc. so that they automatically work with our existing animations. It will be a "trial and error" sort of situation – but we've tested it with a few sculptors and they were able to figure out how to export the sculpts to work with our Fennux, so we hope that you will be able to as well.
If you have any issues you may contact us via the Fennux Ticket System and we will be glad to assist you.
If your submission is accepted, we will update your Support Ticket with a unique code. You will need to go in-world on Second Life and click on the "Fennux – Hats and Glasses Dev Kit" again, and click on the menu item "Get Script". It will deliver to you a notecard which has a script inside.
You will need to copy the contents of this Notecard to a new Script file.
You will see at the top of the file something that says… string uuid = "code-goes-here"; …simply change that code-goes-here portion to say your Unique Code.
You will also see at the top of the file something that says… string object = "Hat"; …simply keep this as Hat or change it to Glass depending on what type of item you are creating.
After you have edited and saved the script file – make sure to change the permissions to "No-Modify" (VERY IMPORTANT), and in most situations you will probably want to make sure the script is "No-Copy", else someone could use your script to make unlimited free hats or glasses. Again, this is VERY IMPORTANT that you make sure to set "No-Modify" and most likely "No-Copy", transfer is fine to keep on.
Drop that script (after you are 100% positive the permissions are finalized) into an object you want to use as the actual item you sell to people. This item will be touched by the purchaser to start the process of applying it once onto their Fennux. We recommend that you use the same sculpt you made as the item you sell to people. After you have the script inside the sellable object, make sure the permissions are setup properly – and you can now sell your items to anyone on SL. You can even put them up on SL Marketplace, pass them out for free, it's your content – you make 100% of the profits.
Saying this once more, make sure the script is No-Modify, otherwise someone can get your Unique Code and make unlimied versions of your hat or glasses without your permission – and there's nothing we can do about that.
If you decide to make an item copy, keep in mind that someone can have people transfer Fennux to their account, and they can make unlimited Hats or Glasses for the Fennux transferred to their account. We do not recommend keeping Copy permission on your finished product, of course you can do whatever you want as it is your product.
That's about it – I know this is a long post, but it should be very helpful to content creators making third-party accessories for The Fennux Breedable Pets.
LEGAL – Team Fennux LLC always remains to have the right to disable products, including approved ones, as we see fit. If you are found to be breaking our Terms of Service we reserve the right to remove you from the Fennux Developers Program. Developing products for The Fennux is a privilege not a right.
Thanks for reading,
Team Fennux