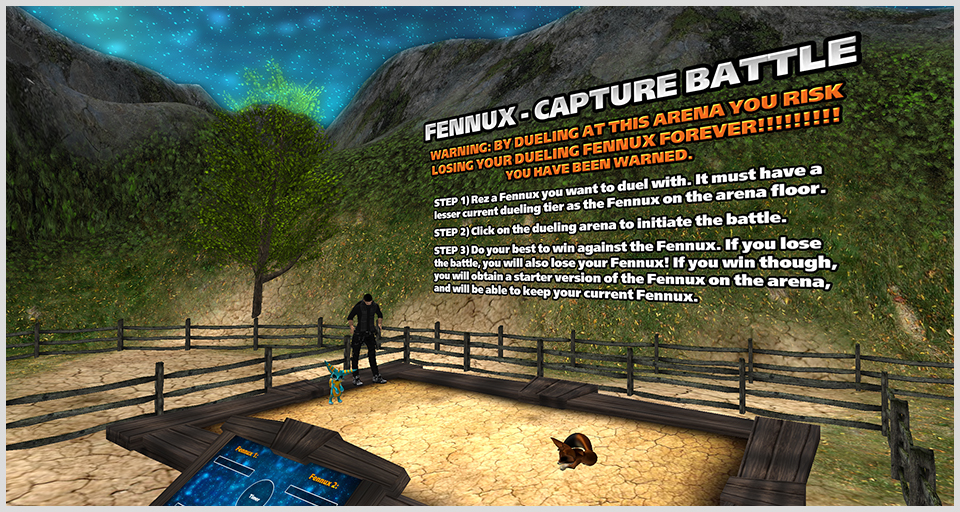 Team Fennux is proud to introduce our latest feature: Fennux Capture Battles!
To get started please read this page VERY carefully. Let me start off with a bit of a warning…
WARNING – YOU RISK LOSING YOUR FENNUX IF YOU LOSE THE BATTLE. IF YOU WIN THE BATTLE YOU WILL GET A COPY OF THE SAME FENNUX YOU DEFEATED TO ADD TO YOUR COLLECTION. IT WILL BE A BREEDABLE STARTER DEN WITH THE EXACT SAME STATS AS THE ONE YOU JUST DEFEATED. AGAIN, IF YOU LOSE THE BATTLE – YOUR FENNUX WILL BE ETERNAL MERGED FOR GOOD, NO EXCEPTIONS.
Now that we have that part out of the way, allow me to explain how this all works…
Step 1) Rez a Fennux you want to duel with on the arena floor. It must have a lesser current dueling tier as the Fennux you are about to be battling, else you will not be able to battle the Fennux.
Step 2) Click on the dueling arena to initiate the battle.
Step 3) Do your best to win against the Fennux. If you lose the battle, you will also lose your Fennux! If you win the battle, you will obtain a starter version of the Fennux on the arena in DEN form, and of course you will be able to keep your current Fennux. No harm done, if you win!
If you are worried about losing a Fennux with this new feature, please do not make use of this feature – or find a Fennux that you are willing to risk. The higher your Fennux' dueling tier is, the better chance you have at defeating the Fennux at the Capture Battle Arenas.
We have 5 arenas out on the sim right now, each with a different Fennux to attempt at capturing. If someone wins and obtains the Fennux, another person will have a chance to win the same type of Fennux. The only exception to this rule is if Team Fennux decides to switch up the Fennux that you battle (which we will do randomly).
You may not use the same dueling tier (or better) as the current Fennux on the arena, you are required to use a Fennux that is currently at least 1 dueling tier lesser than the Fennux on the arena. For example, if we set out Dueling Tier 5 Fennux to battle, you must use 4, 3, 2, or 1 dueling tier Fennux. We highly recommend using a dueling tier that is 1 lower than whatever our Fennux is on the arenas!
Here is a teleport location to the 5 arenas on the Fennux Main Sim:
http://slurl.com/secondlife/Fennux/128/207/22
Thanks for reading, and happy dueling!
-Team Fennux