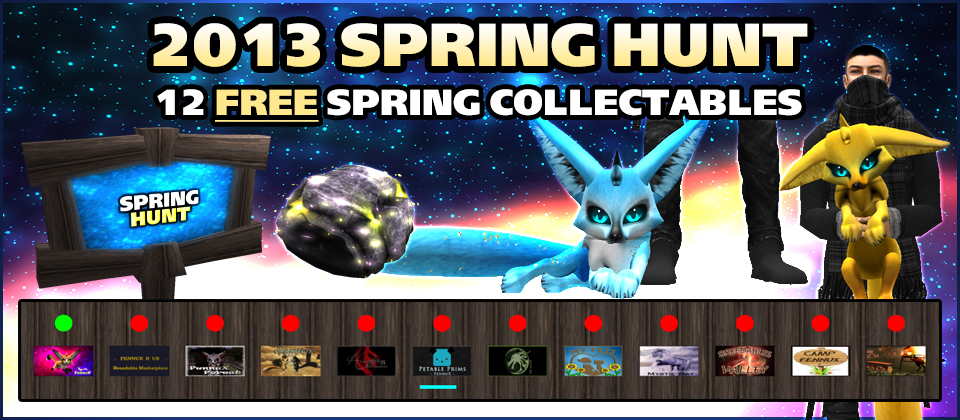 Team Fennux is hosting a 100% Free Hunt @ The Fennux Sponsor Sims!
NOTE FROM DAEMON: I've noticed sometimes I have to click the sponsor image 2 TIMES before it correctly takes me to the desired location, so please click once, wait a few seconds for the Map to show up, then click a second time on the same image to get the proper location – and THEN click teleport.

All you need to do is visit one of the sponsor sims, go to The Fennux Sponsor Display and click the sign that says "Spring Hunt" to obtain your Free Spring Hunt HUD. Then you can simply follow along in any order to hunt down all 12 Free Fennux Collectables!
Please don't simply go from left to right, try clicking random sponsor images on the HUD. Each time you are on a sponsor sim a blue bar will highlight underneath the sponsor image, helping you know exactly where you are. You will also notice the red circles above the sponsor images turn green each time you have found one of the hunt items.
So what do the hunt items look like? Please examine the photo above, you will notice a sparkly green Fennux Den, this is what you are looking for at each sponsor display area.
Can anyone join the hunt, even people who don't own Fennux? YES! In fact, every single collectable item in this hunt has nothing to do with breeding / paying monthly fees / etc, it's just completely free hunt items. (Head Pets, Running Pets, Grabbers and Holdables)
How long will this hunt last? We are starting it off on April 06, 2013 and plan to keep it going until April 20, 2013. (2 weeks)
So what are you waiting for? Get over to a sponsor sim RIGHT NOW (click one of the bottom sponsor image links) to get your Free Spring Hunt HUD, so you can get to collecting all 12 items!
NOTE: Every item in this hunt is Copy / No-Modify / No-Transfer.
-Team Fennux