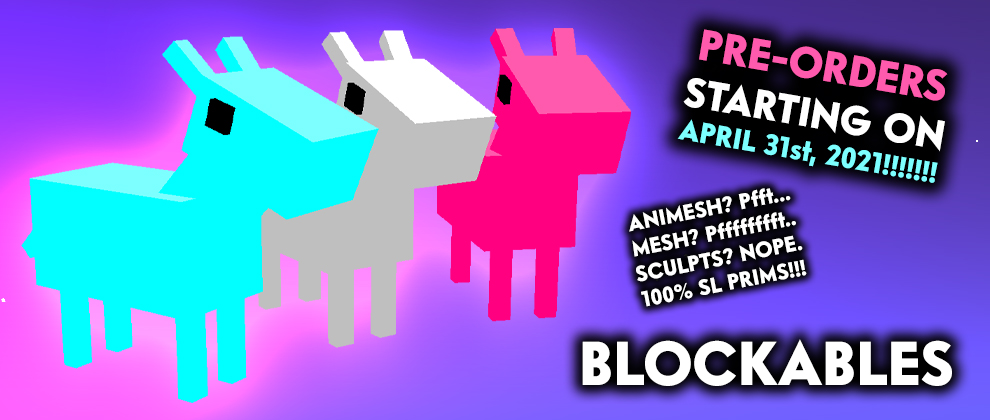 Tired of breedables lagging you out? Is your computer dropping frames with 100 animesh pets on your screen?
Introducing "Blockables", the latest Breedable Pet Game to show up in Second Life!
WHY BLOCKABLES:
Animesh is over-rated, same with regular mesh and sculpts. Prims are where it's at, or Blocks as we like to call them. Blocks are simple, they don't add any additional lag to your SL experience. They don't feature any textures so there's no downloading additional content.
IS THIS A JOKE:
Noooooo no no no no… i get it, it's April 1st and we're announcing this new breedable, all the while still working on getting The Kreatures out to you – but seriously, this is so super real, like – it's like very real okay?!
HOW DO YOU BREED THEM:
You have to right click and sit on your favorite blockable for 3 straight days. You cannot logout! If your Internet Service Provider disconnects you for whatever reason, or the region you are on restarts due to weekly maintenance – you have to start all over again for 3 full days. After the time is up you will get an IM from Daemon Blackflag stating "Here is your new offspring", and he will hand deliver you a new blockable OR TWO. Yes, you heard me right – you might get TWO offspring, TWINS!!!!
DO THEY EAT FOOD:
Yep! Wouldn't be a breedable if they didn't eat something, right? They eat Tacos! But only Daemon Blackflag can feed them the tacos, so you have to do a DoorDash / GrubHub order for them delivered straight to Daemon's real life residence. He will hand feed the blockables for you. Yup, that's what happens. Daem- errr, Blockables really like tacos.
WHEN CAN I ORDER THEM:
Pre-Orders start April 31st of this year. We won't be doing a beta for blockables because they are are too simple and don't actually have any scripting – Daemon is the sole provider for duplicating the prims using his advanced method of RNG to make sure you fairly receive the proper offspring.