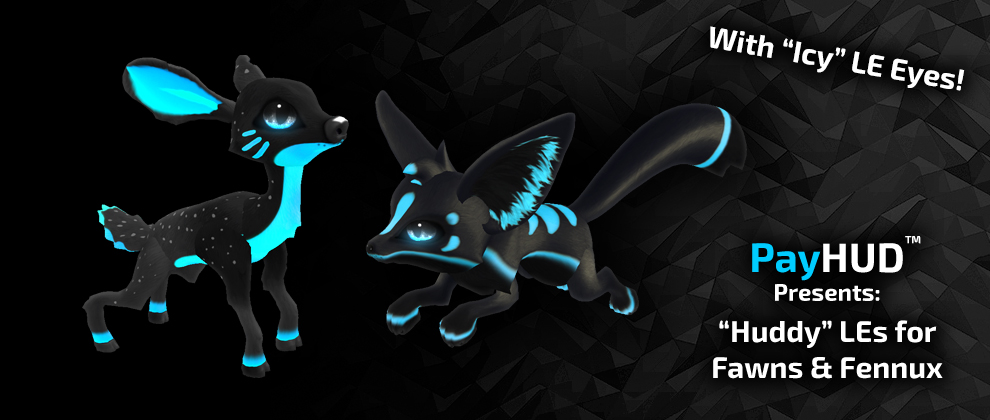 Hey folks! Daemon here, and today is the day that I'm launching PayHUD!
Why PayHUD? Well, it's a lean business that doesn't take away from operating Fennux/Fawns, and the profits from it directly help ensure Fennux/Fawns stick around for many more years with much more content!
Beyond our needs as a breedable community, it also serves an important purpose. Right now there are not many good ways to advertise in Second Life. Trust me, I've tried them all! PayHUD enables content creators to get the word out about their new products, and in return it helps users discover brands that they might not have known about otherwise.
Users of the HUD also receive lindens every time they actively view an advertisement, BUT if the users are Fennux/Fawns breeders they will receive FNX & FWN Points, Reserve Kibbles & Ether Reserves, plus Limited Edition Fennux and Fawns after certain milestones are hit as a PayHUD user!
Take a look at the Fennux/Fawn above, those LEs can be earned after you view 100 ads on the PayHUD network. All you have to do is keep your PayHUD on whenever you're playing Second Life, then interact with the dialog prompt that comes up. But don't AFK, if you're not there when the ad shows up – you won't get credit for viewing the ad.
Whenever you withdraw your L$ to SL, we will also send the corresponding amount of FNX and FWN Points, Reserve Kibbles/Ether to your breedable accounts as well. It happens during the withdraw of L$, so make sure to withdraw your funds every so often.
This ad network is all opt-in, if at any point you don't want to receive ads you can just right-click and detach the PayHUD and you'll stop seeing Ads. When you decide to put it back on again by right-clicking and "Adding" it, you will be back on the grid as you wait around for content creators to showcase their latest products.
It may take some time to get this up and running, so I humbly request people to leave their PayHUD on as much as possible – it'll help build up the network and ensure a smooth launch. The better PayHUD does, the more resources we'll have for Fennux/Fawns to revitalize!
Thanks for reading, I hope everyone gets their Huddy LEs in a timely manner. Limit 1x Fawn and 1x Fennux per avatar. To redeem your Huddy LE you can go to the Vendors Area of the Fennux and Fawns sims, but make sure you've viewed 100 Ads first!
-Daemon